We hosted our 4th event with 
Ronit Kfir
, a 
design blogger
, interior designer, and media persona who gave a powerful talk tackling what many dare consider. She posed the following questions: How do we really deal with clients? How well are we managing our business? How do we set the right tone with our clients? How can we stop apologizing and ask for what we deserve?
I was introduced to Ronit by a mutual friend, Shiri eshed-Shahar, a home stylist specialist and popular blogger of 
Olama
 who thought we will be a great team to make this event happen. We found out later on that what planted the idea in the first place actually happened after one of Ronit's Lectures in Israel when Carmit, Oron, an interior design, approached her with the idea. 
I have known Shiri's wonderful work, through her passion for the craft and knew she will be a great team to work with on the event. 
After a long Skype call with Ronit I knew immediately that Shiri was right. Ronit was the hilarious, vivacious, courageous, and engaging speaker who needed at our next event.
Ronit was on a 40-day adventure with her family touring the United States. Her last stop was San Fransisco where she took the time to speak at our event on August 9th at 7 PM.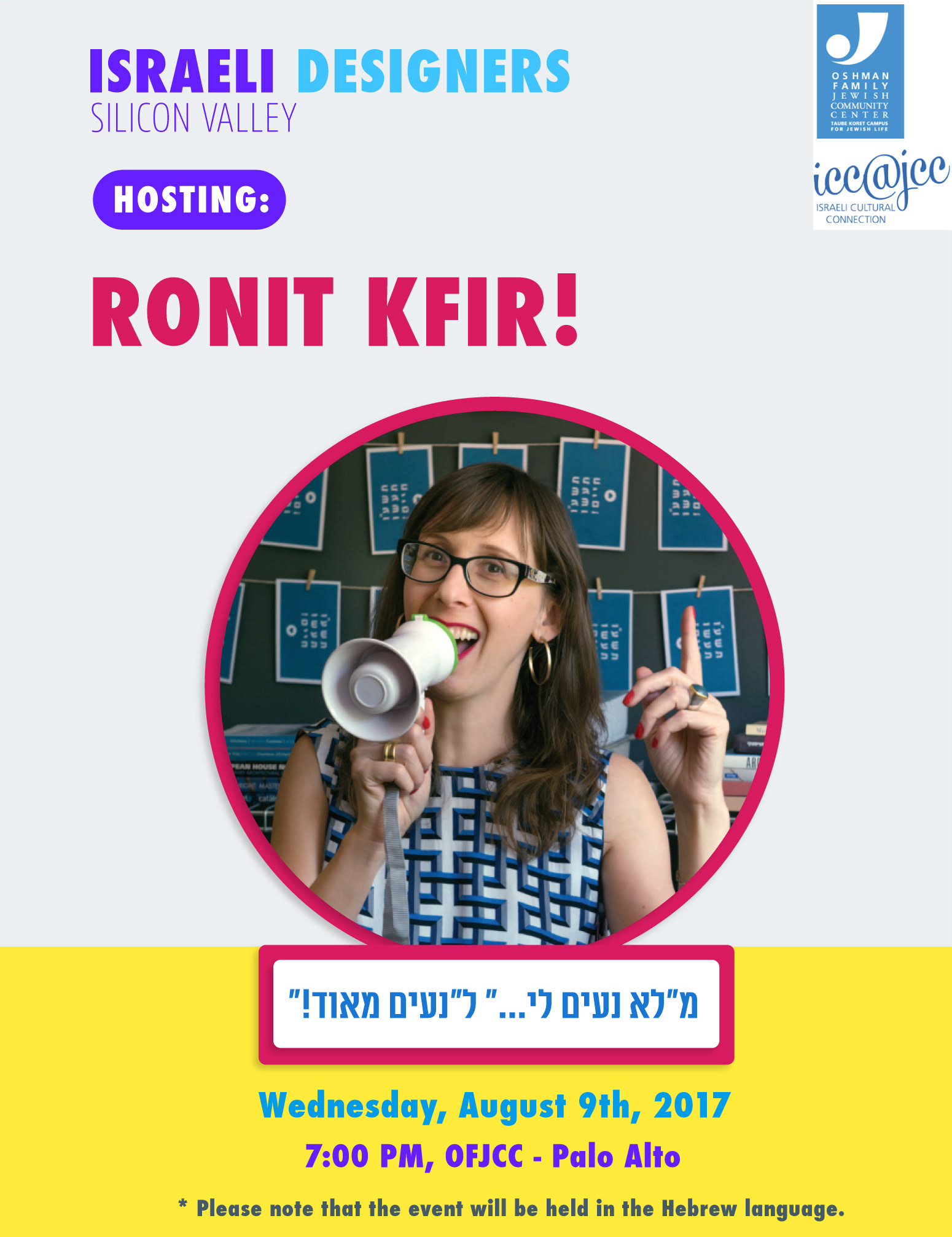 Our events usually target the Israeli Designers community, but the moment I posted on social media many people from outside reached out wanting to attend in addition. Since I knew that the value of her lecture, "Stop Holding Yourself Back — How to Deal with Customers," is something many of our members will benefit from, we decided to collaborate with the team at the
ICC@JCC
.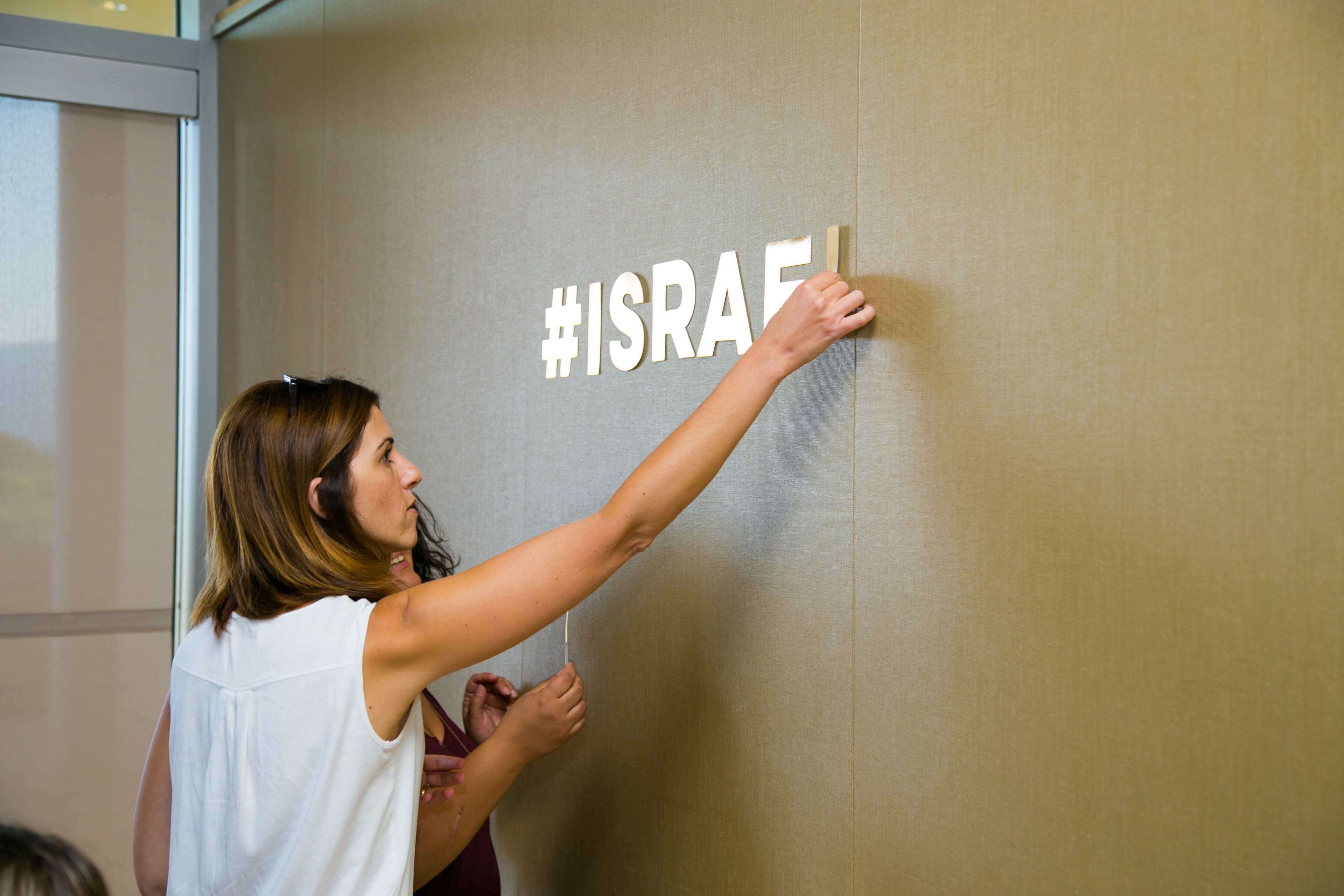 We decided to create a special gift to all our event attendees in a work collaboration with Ronit's graphic design studio team 
Nylon
 in Israel to create custom, round buttons that carried the lecture motto. In addition, we added a poster with a list of tips about how to deal with clients.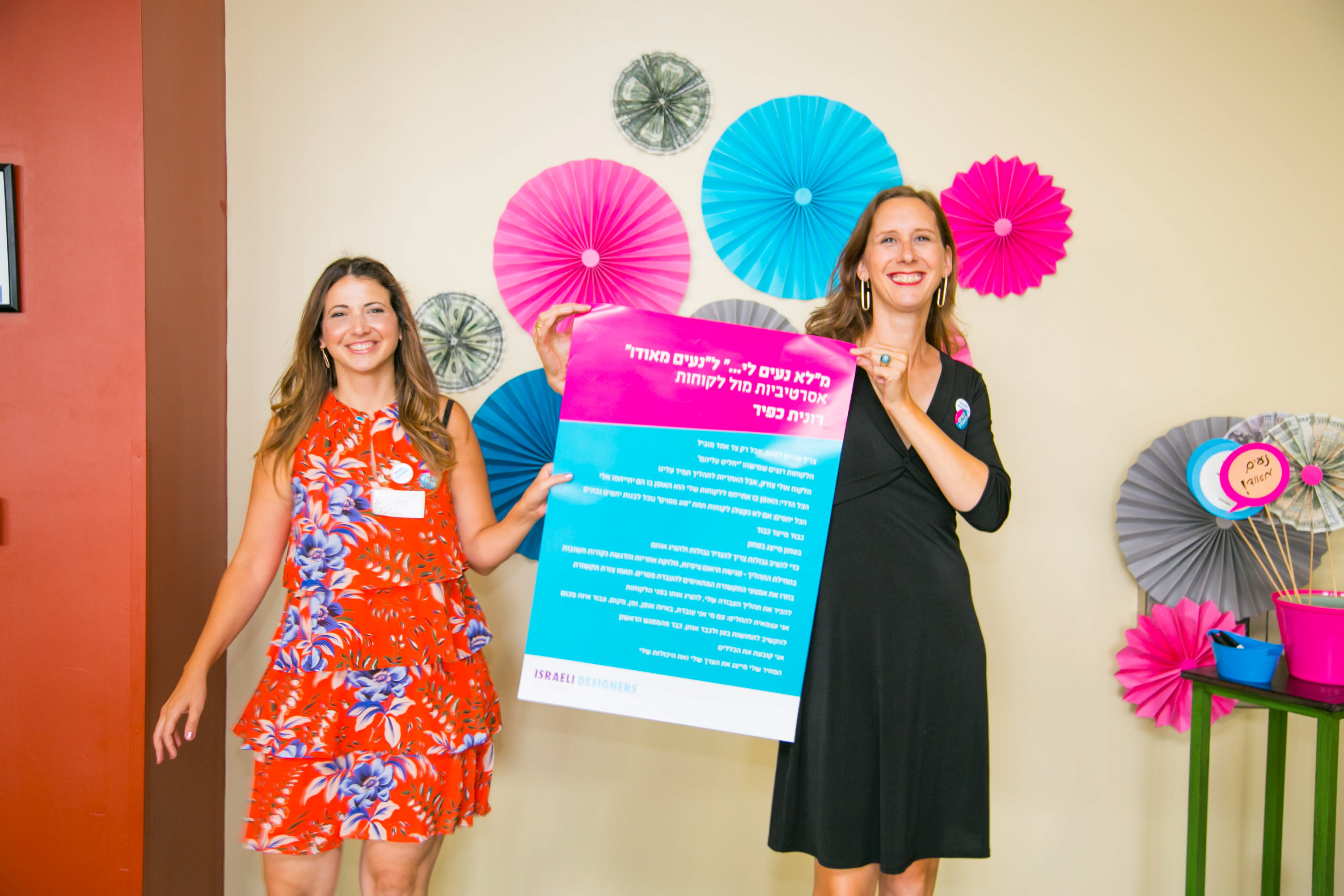 I was very excited to meet Ronit in person on the day of the event after communicating virtually for more than a month. The event was held at the OFJCC Freidenrich conference room. Shiri and her supportive husband
 Eyal
, who is also a part of our community and a talented UX designer, arrived early to help me set up everything. I was lucky to have them on my team as they are a true inspiration of teamwork and creativity.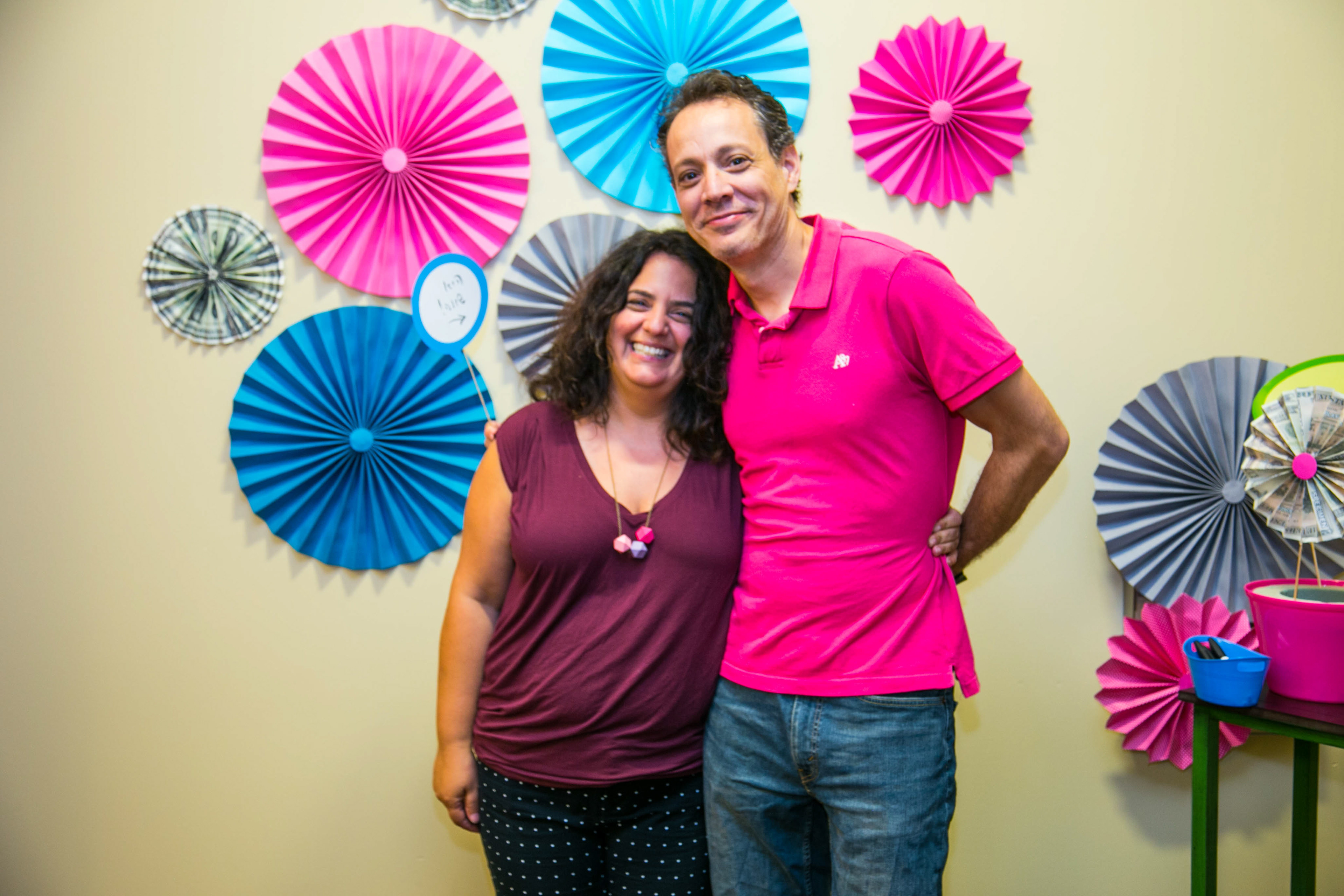 Every event I try to use at least one Israeli local vendor. This time our designers enjoyed delicious cookies and muffins, baked with love and made by Sharon Shafrir.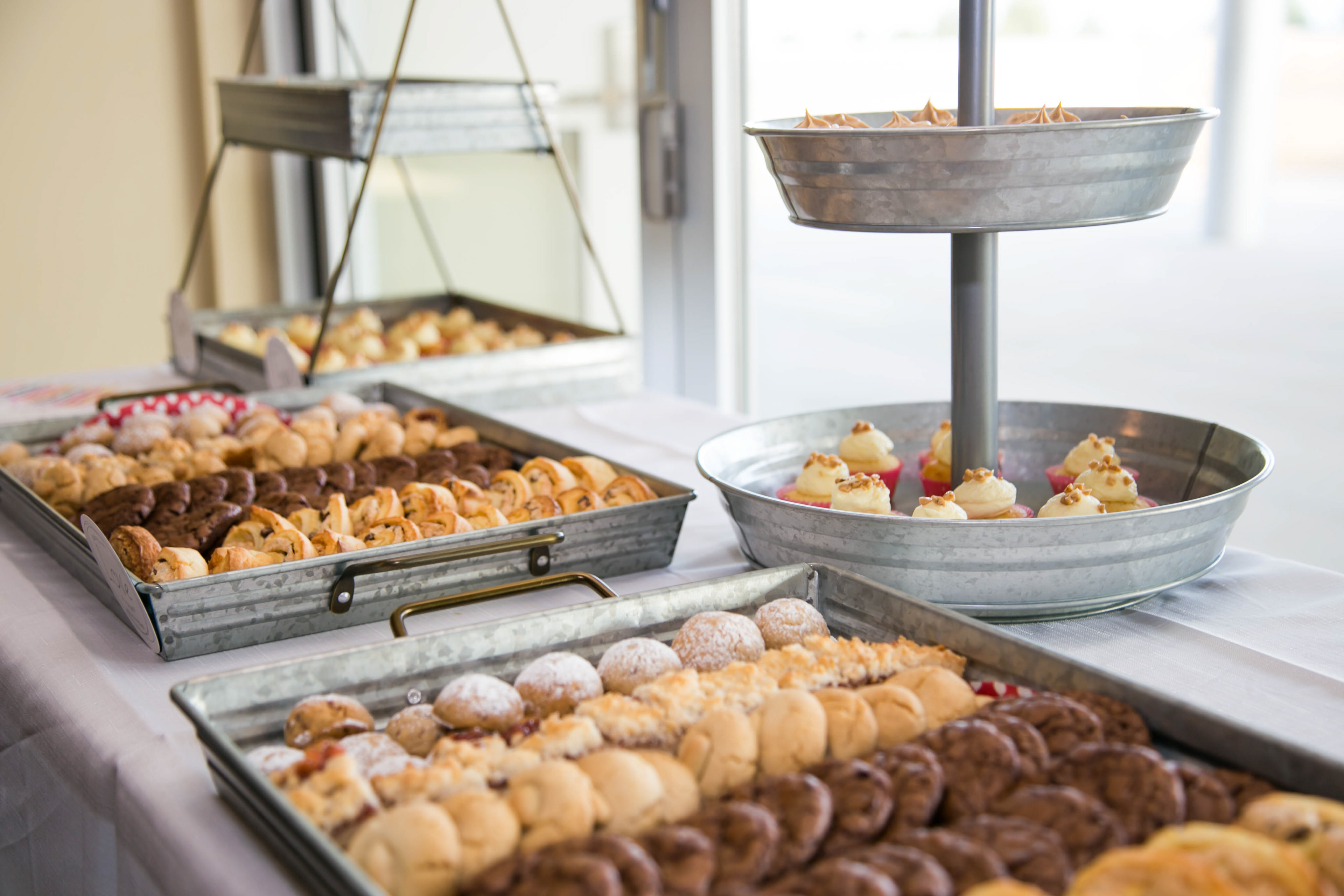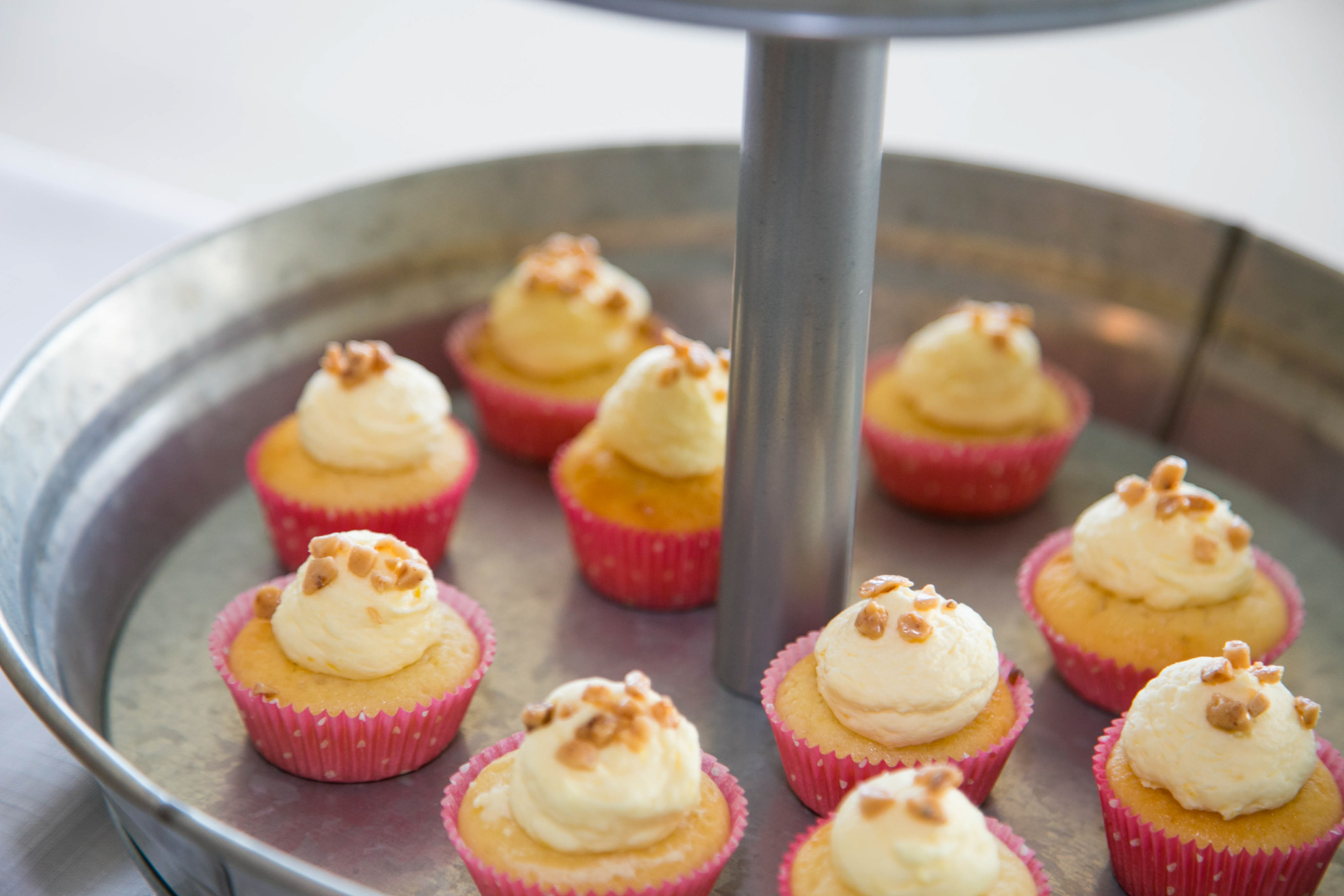 As the event was about to start we saw that we had a full house! Building a strong community is all about getting to know and supporting people around you. The reception was a great time for people to engage, meet both new and familiar faces, and get to know Ronit with the opportunity to share a photo with her at our a pop-up photo booth.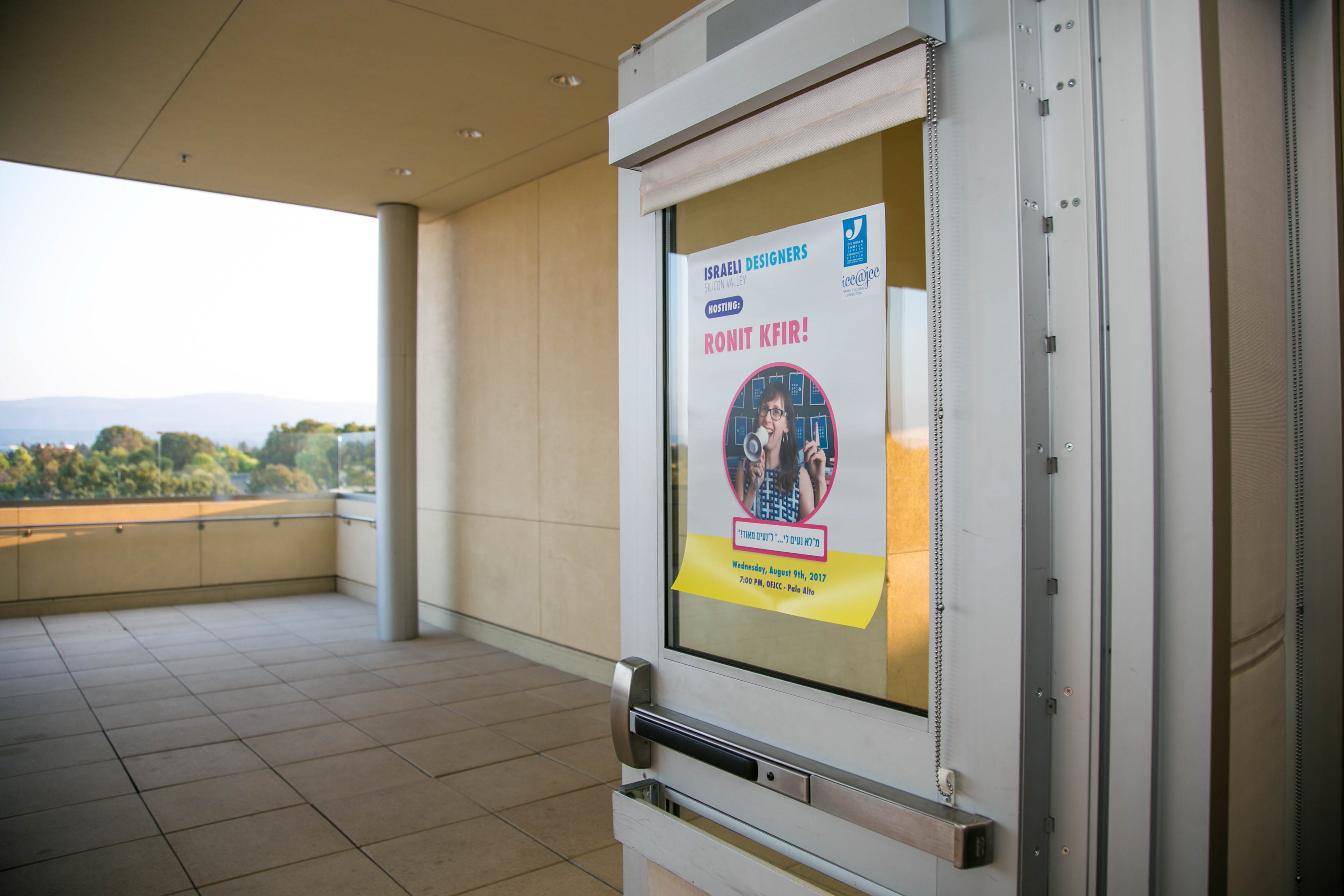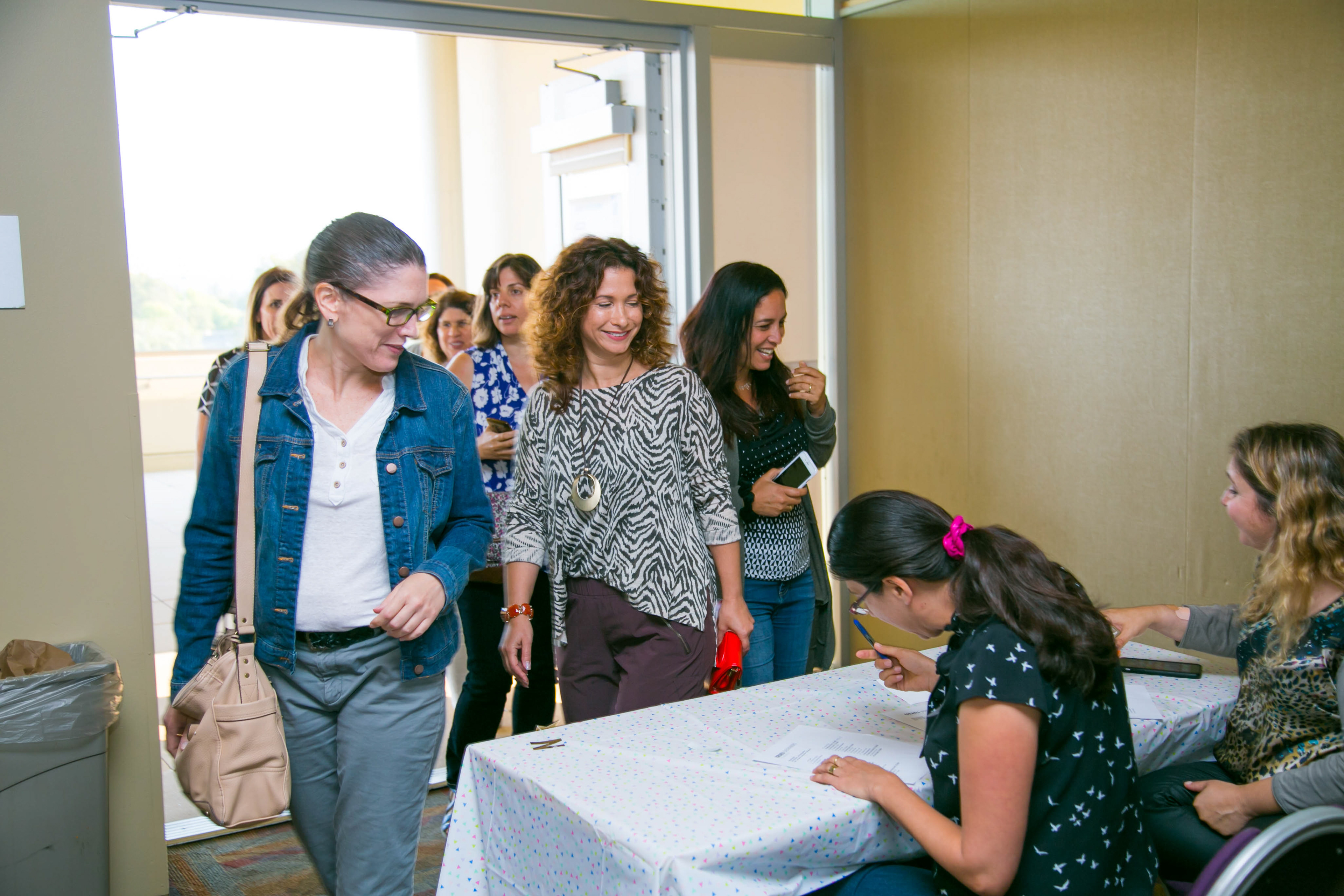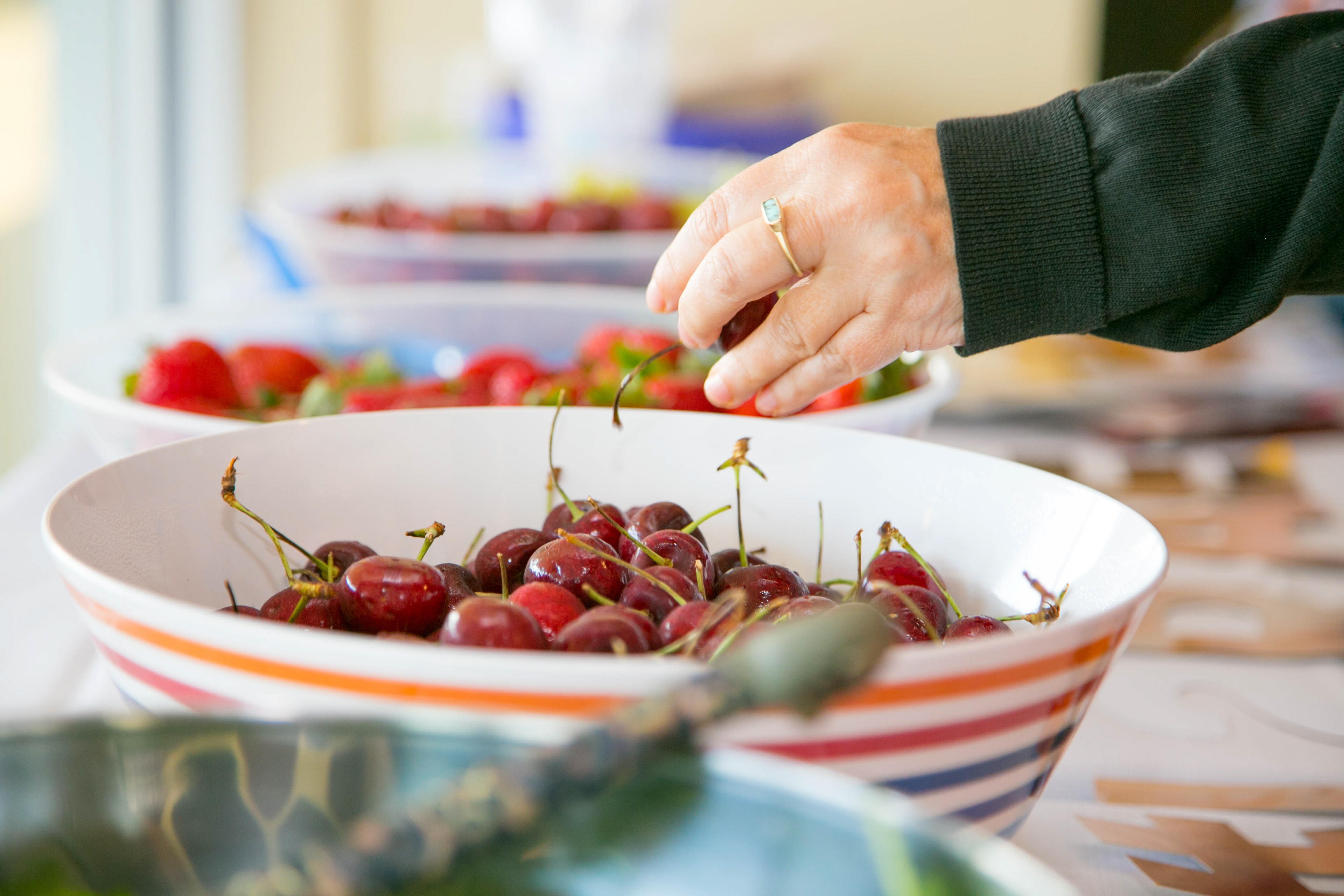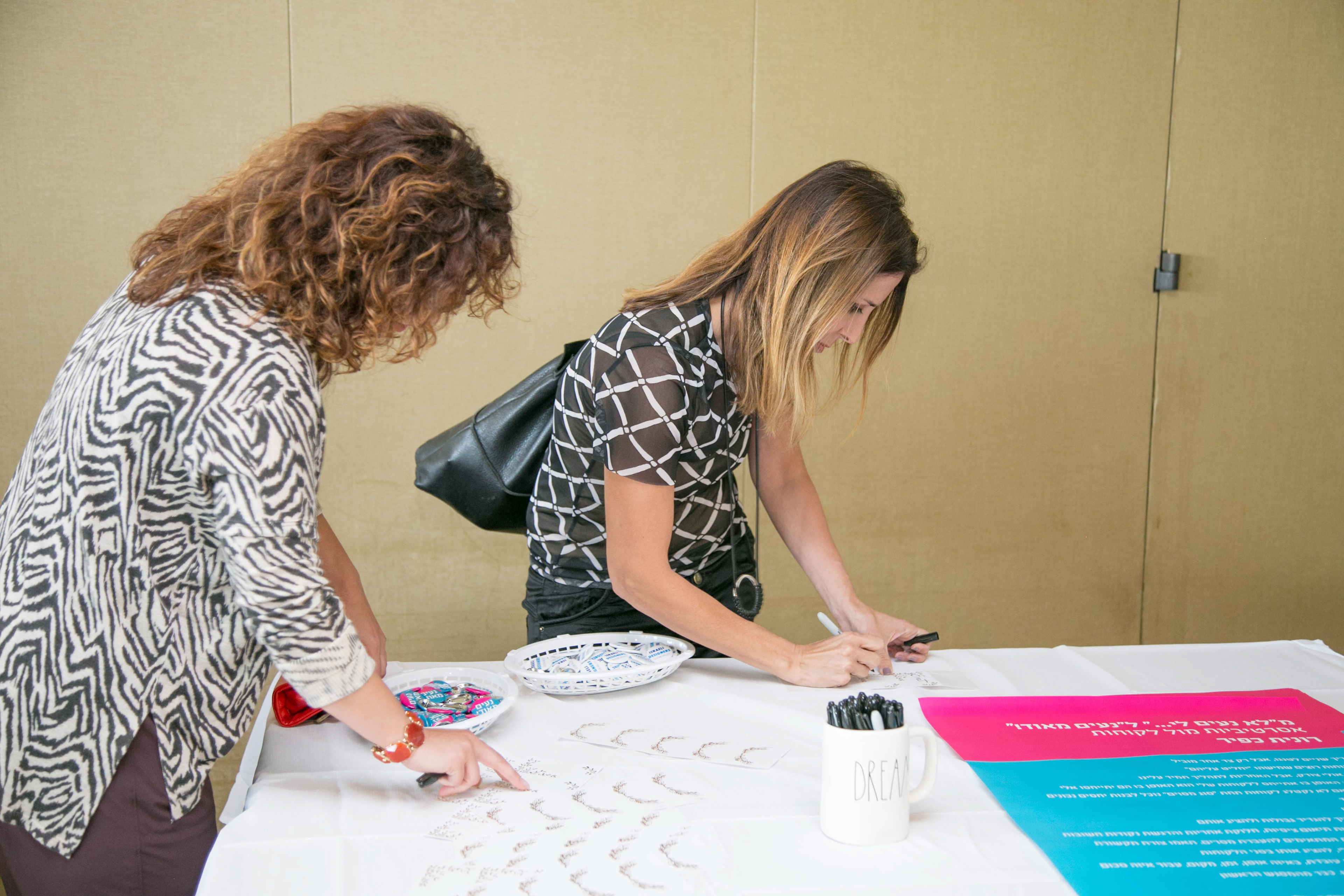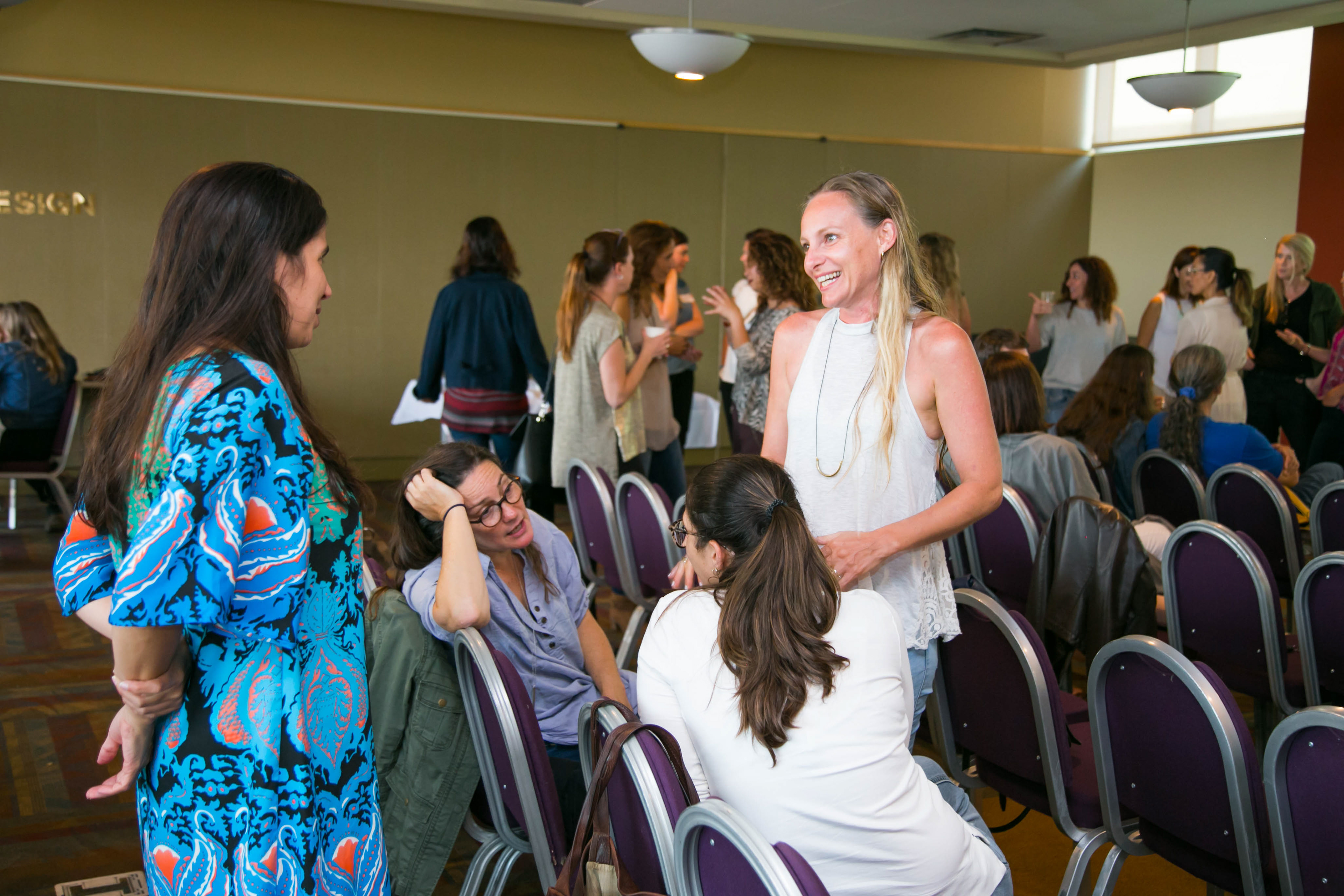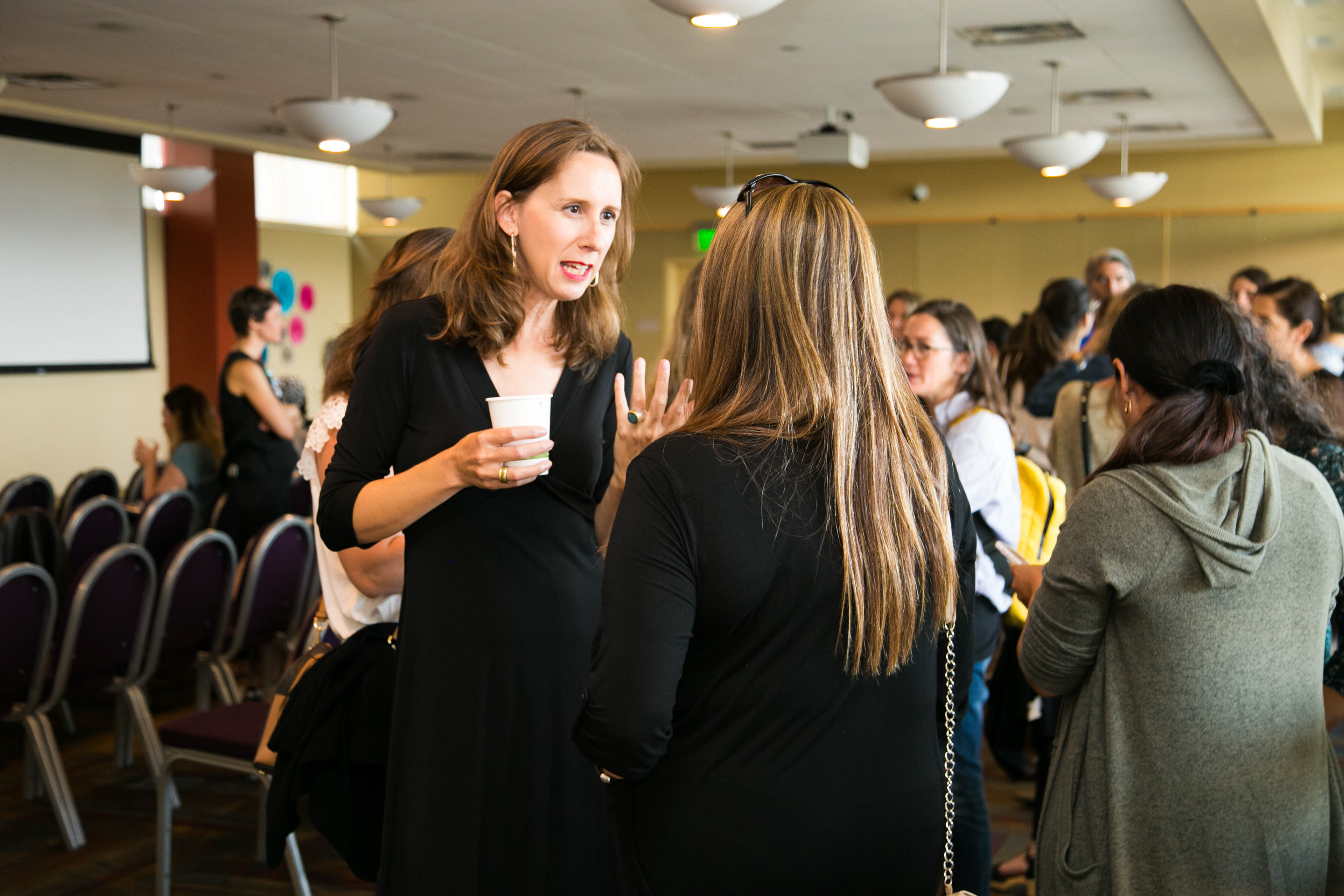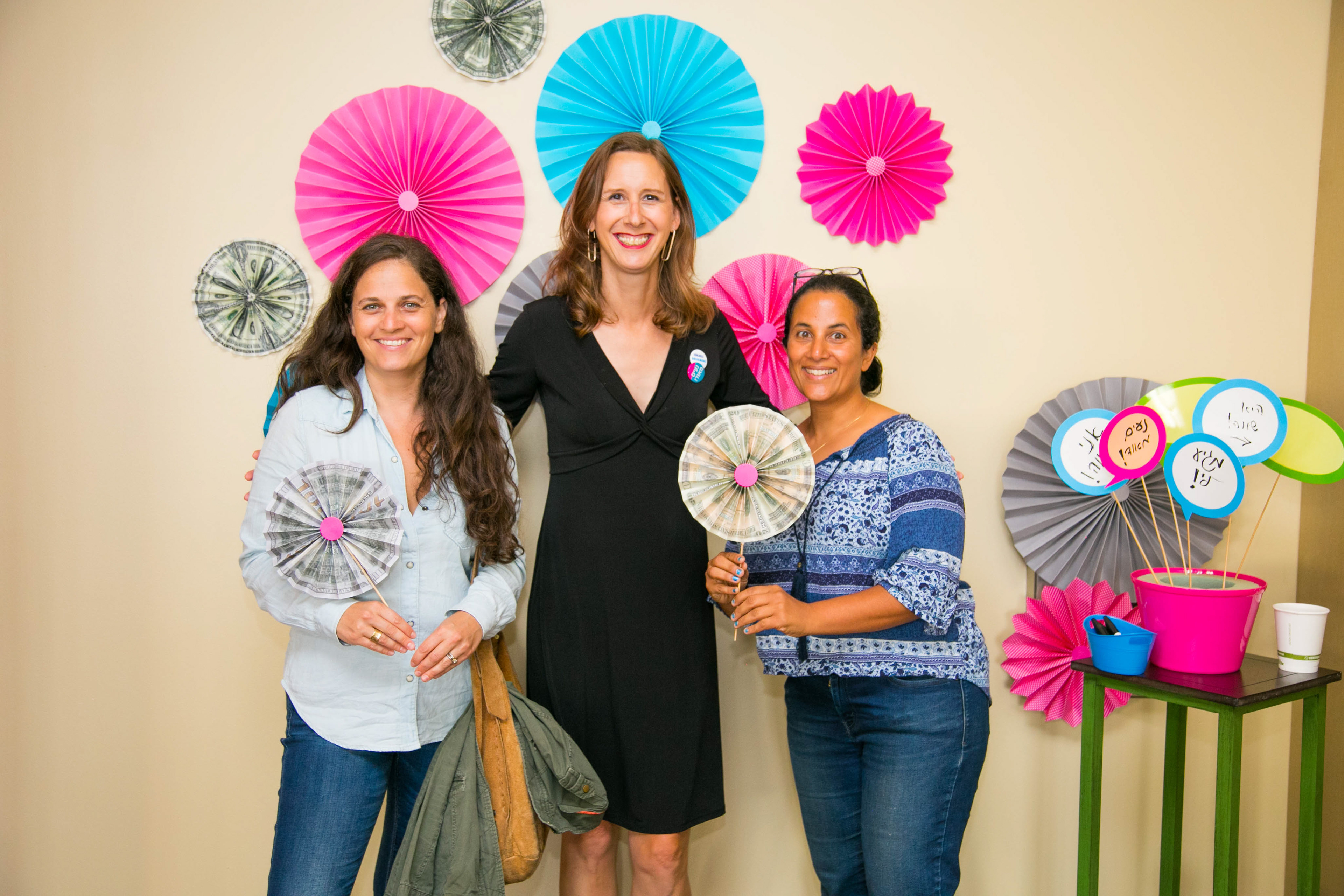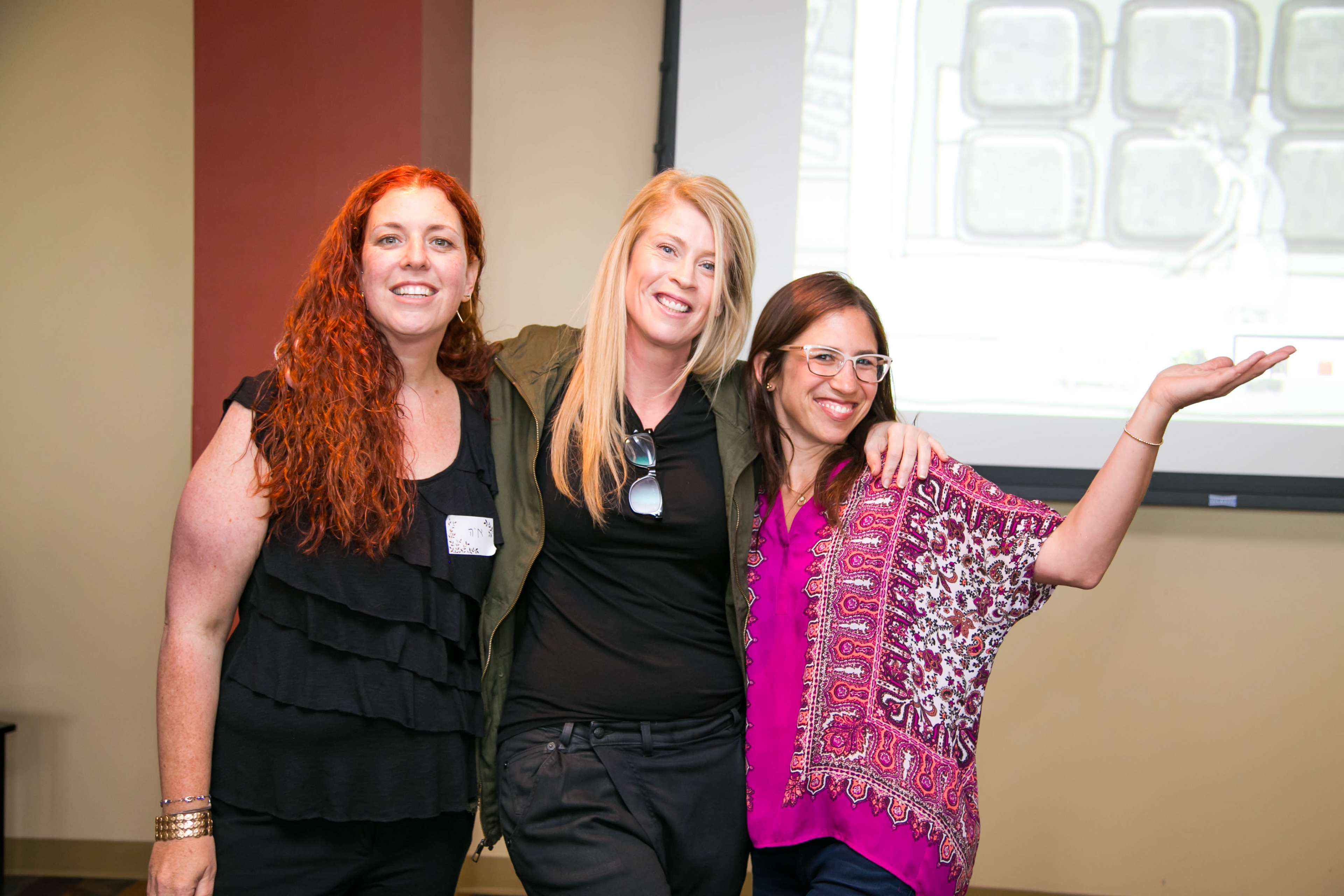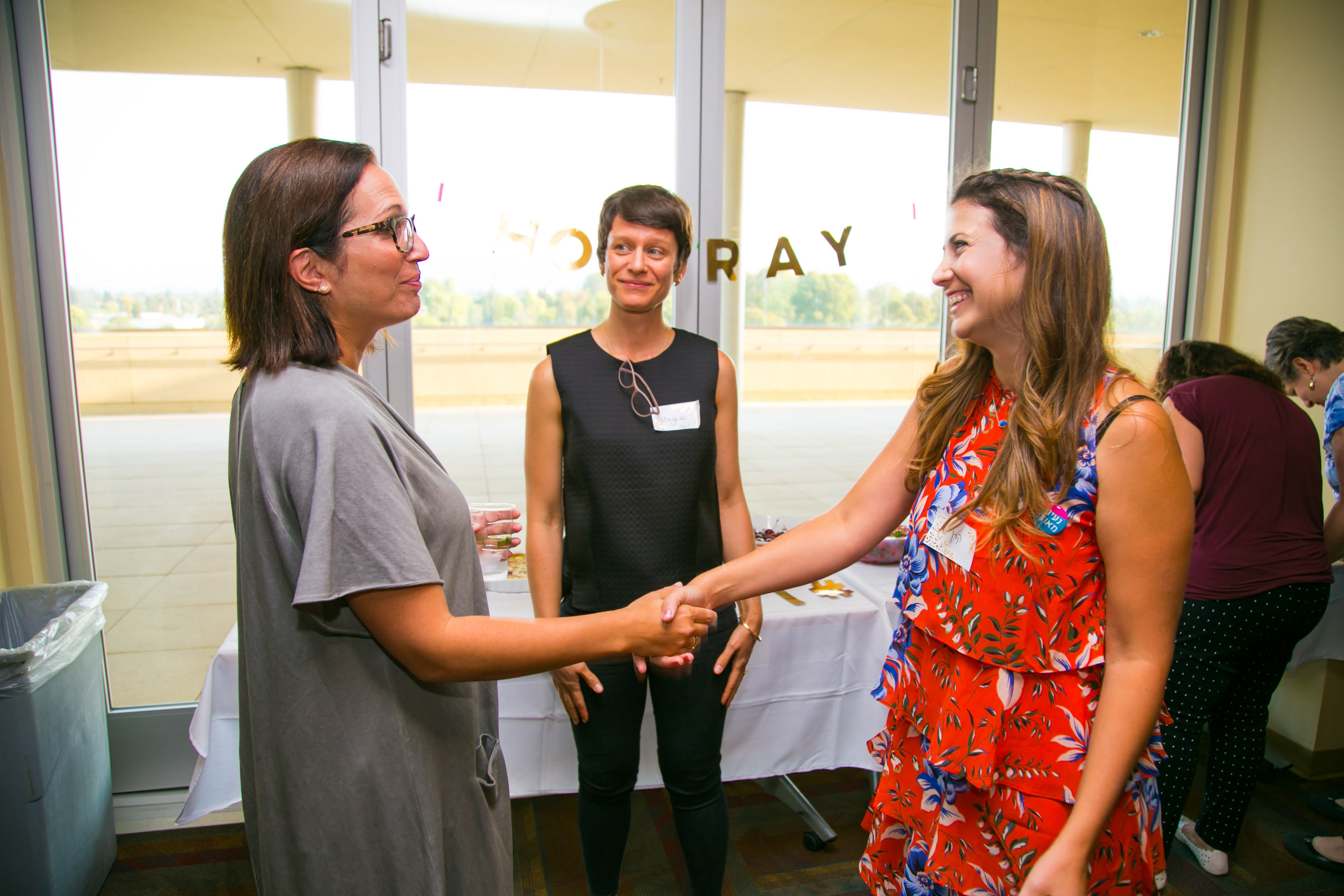 I started the event presenting an introduction about who I am, for new faces, followed up with a short review of the accomplishments of the Israeli Designers community, and what we are planning for the upcoming year. However, before I began my presentation, Ronit already made me laugh with excitement!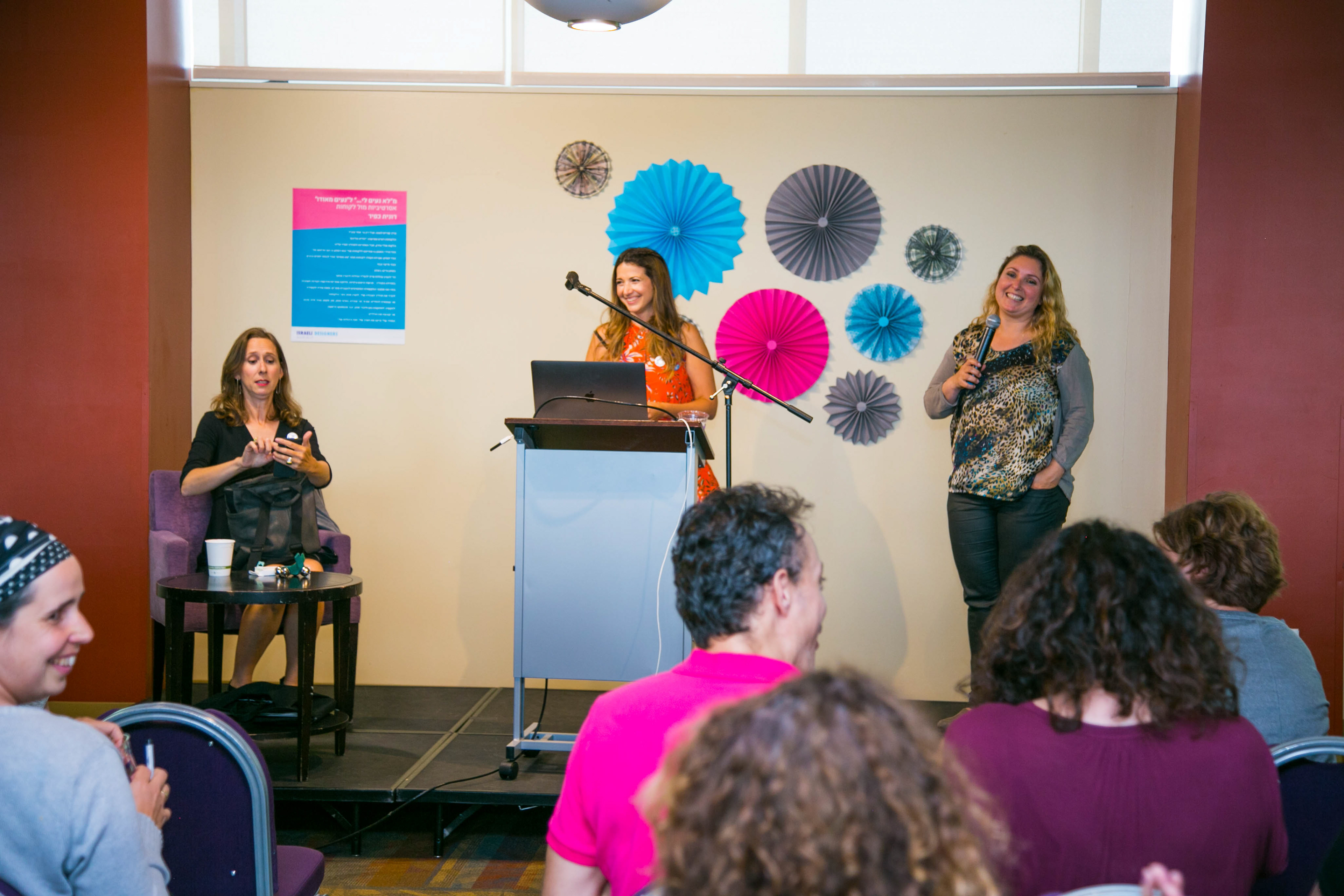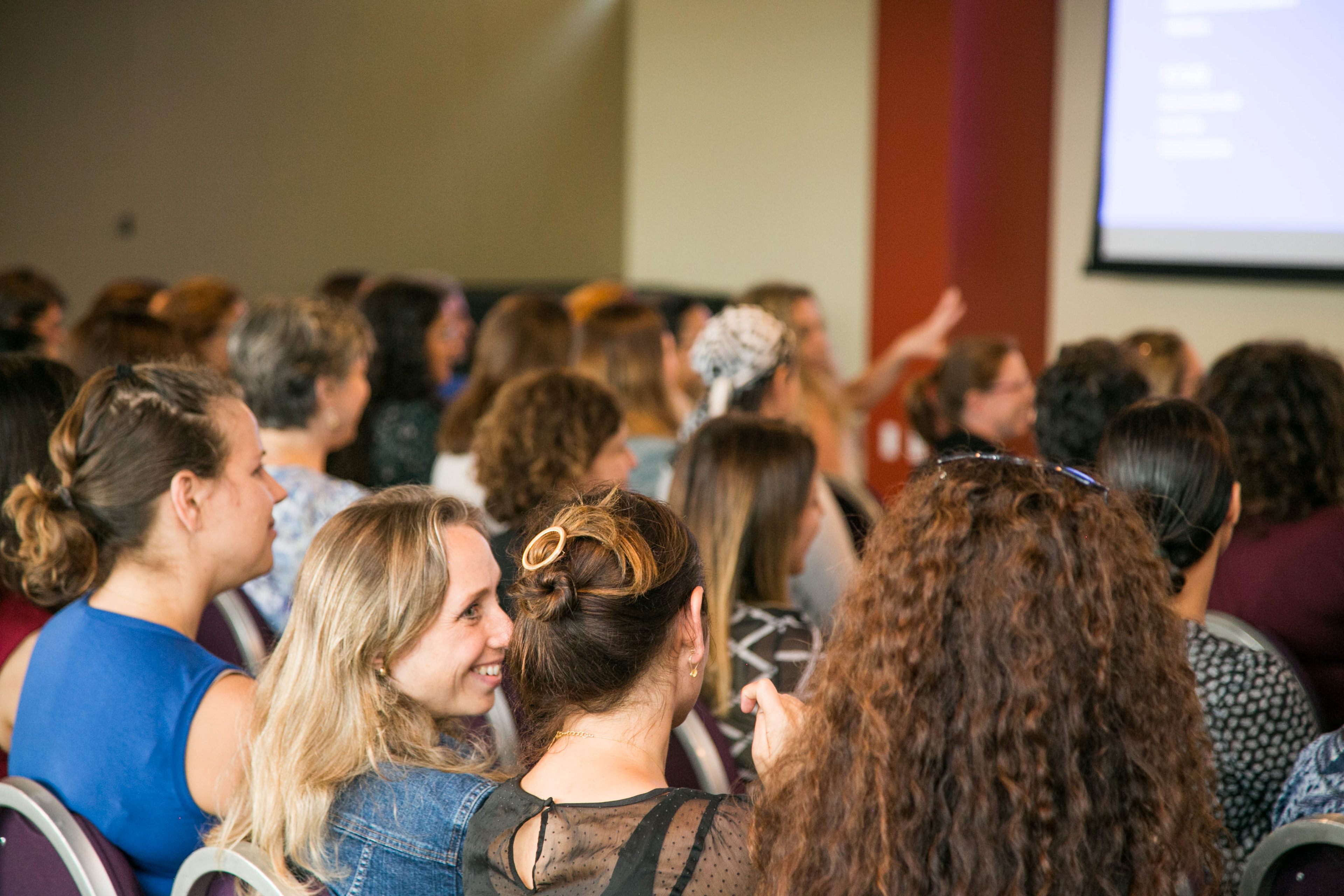 After me, Ronit took the stage and impressed us all! She shared 7 key lessons learned from working with clients. These lessons were about working for free, self-respect, how to listen to your gut, finding balance between being assertive and nice, how to stop negotiating your rates, lead with confidence, the importance of signing a contract agreement before starting any kind of work, and setting up payment at the first meeting while testing the match between ourselves and potential clients. 
One of the things that came across all lessons was that in every relationship communication is key with boundaries and mutual respect for nurturing growth. 
She shared her journey as an interior design from a beginner in interior design to an experienced professional. Her stories, a combination of personal and work, were told in such a charming way that it made us all laugh. These universal lessons are ones that anyone can relate to and see themselves making the exact same mistakes no matter which field we come from.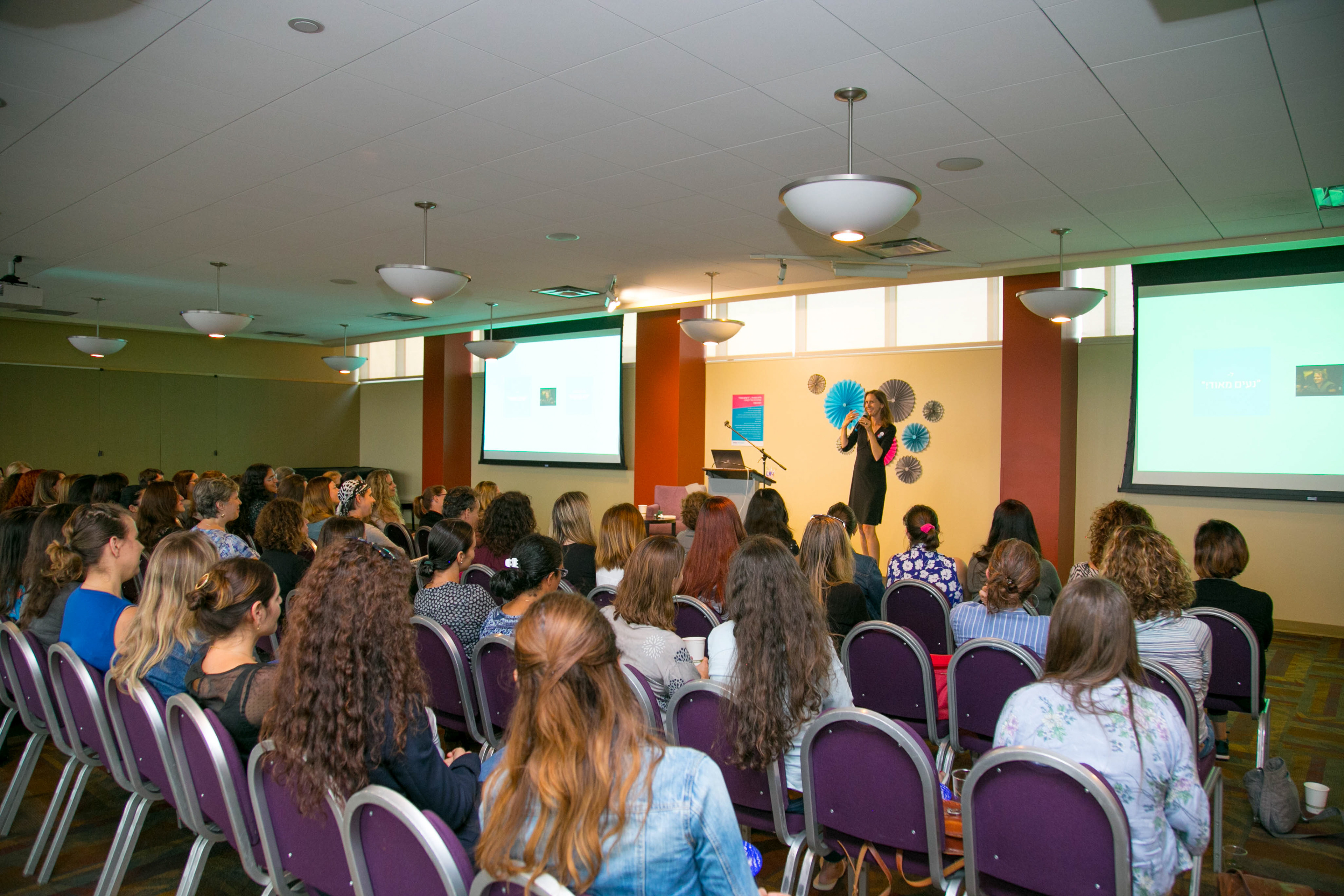 Ronit shared with the audience two insightful videos. The first one was by Mike Monteiro called, "F*ck You, Pay Me," one of the most popular
CreativeMornings
talks of all time, giving valuable advice on how to get paid for the work that you do.
Mike Monteiro is the co-founder and design director of
Mule Design
, a leading interactive design studio based in San Francisco. Their studio focuses on elegant, simple sites with clear language that serves a real need and wants designers to have a strong backbone. Mike writes and speaks frequently about the craft and business of design. 
Mike loves client services so much that he wrote two books on the topic. His books are, "
Design is a Job
," and "
You're My Favorite Client
." He received the 2014 Net Award for Conference Talk of the Year on his inspirational polemic on responsibility, "How Designers Destroyed the World."
I highly recommend reading his books and becoming familiar with his approach to gaining more confidence and clarity in our everyday jobs. 
The second video Ronit shared was, 
"Inside Amy Schumer" - I am sorry
." The sketch takes place at a Female Innovation Conference where Schumer is one of the women scientists on a panel of four. Each woman is a top specialist in her field, but things go wrong when the moderator, a man, mispronounces several of their names and occupations. The women meekly point out the mistakes while apologizing to the moderator. Things get worse when they apologize for clearing their throats, for speaking too loudly, for being allergic to caffeine, and even for speaking at all. From an interview that Amy did the skit, she explains that it was made as an ode to women scientists, of which there are startlingly few, to serve as a reminder that we should never apologize for an outstanding performance in our chosen fields.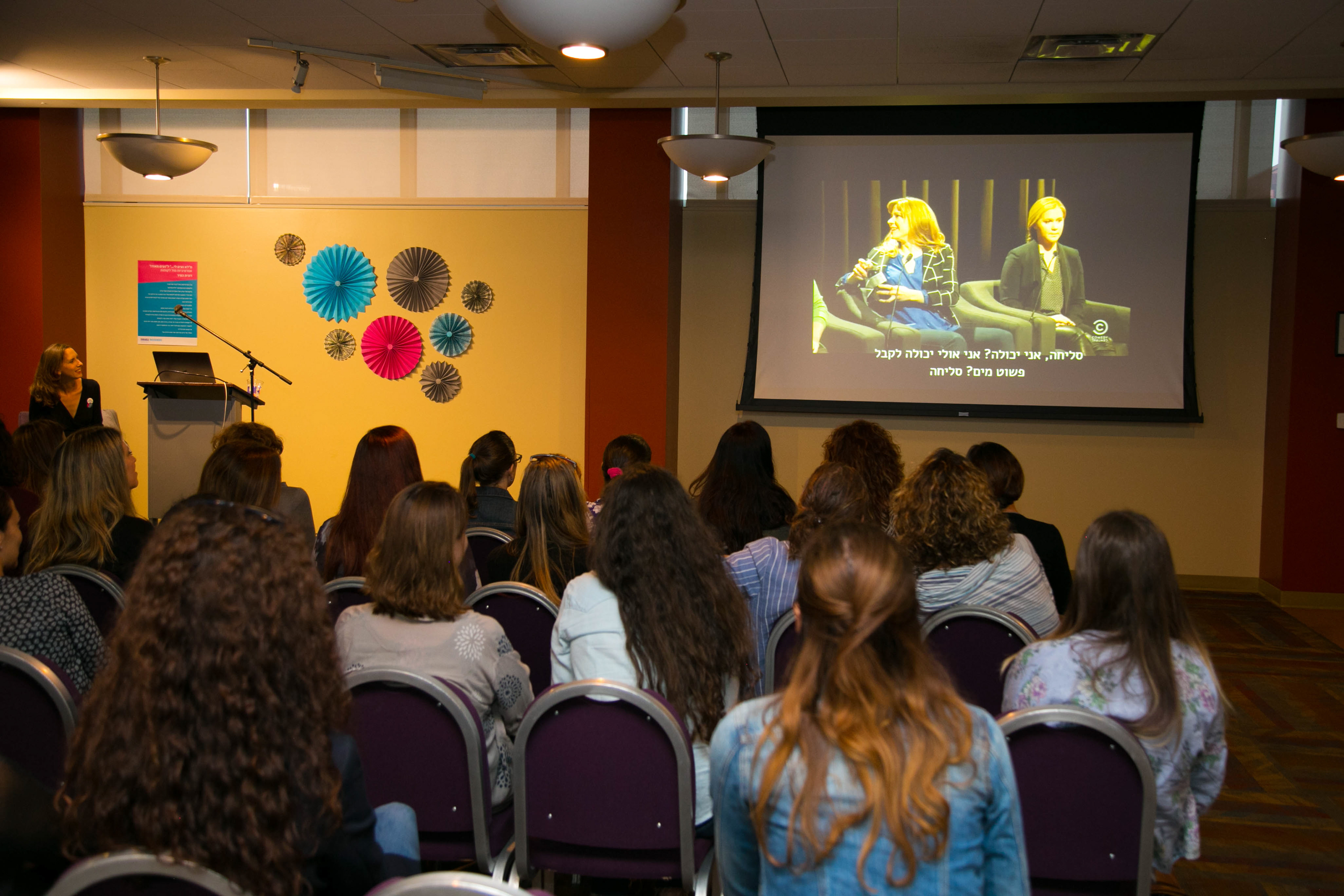 Amy Schumer
 is often known as lauded as comedy's feminist savior and she isn't afraid to tackle touchy subjects. Her sketches on, "Inside Amy Schumer," dissect the double standards imposed on women in Hollywood to traditional gender roles to widespread female stereotypes. Her video, "Compliments," a sketch in which women respond to compliments with brutal self-deprecation. It is also a very popular video about how women should take pride in who they are and their choices.
Ronit also raised the importance of a well-known fact about successful people: it's not a one man journey. You need to build your support system as your business grows with those who can relate to your experience and provide you with the honest advice during times of need. She also talked about the power of social media and invited all of us to join closed group of women who run the business she started in Israel.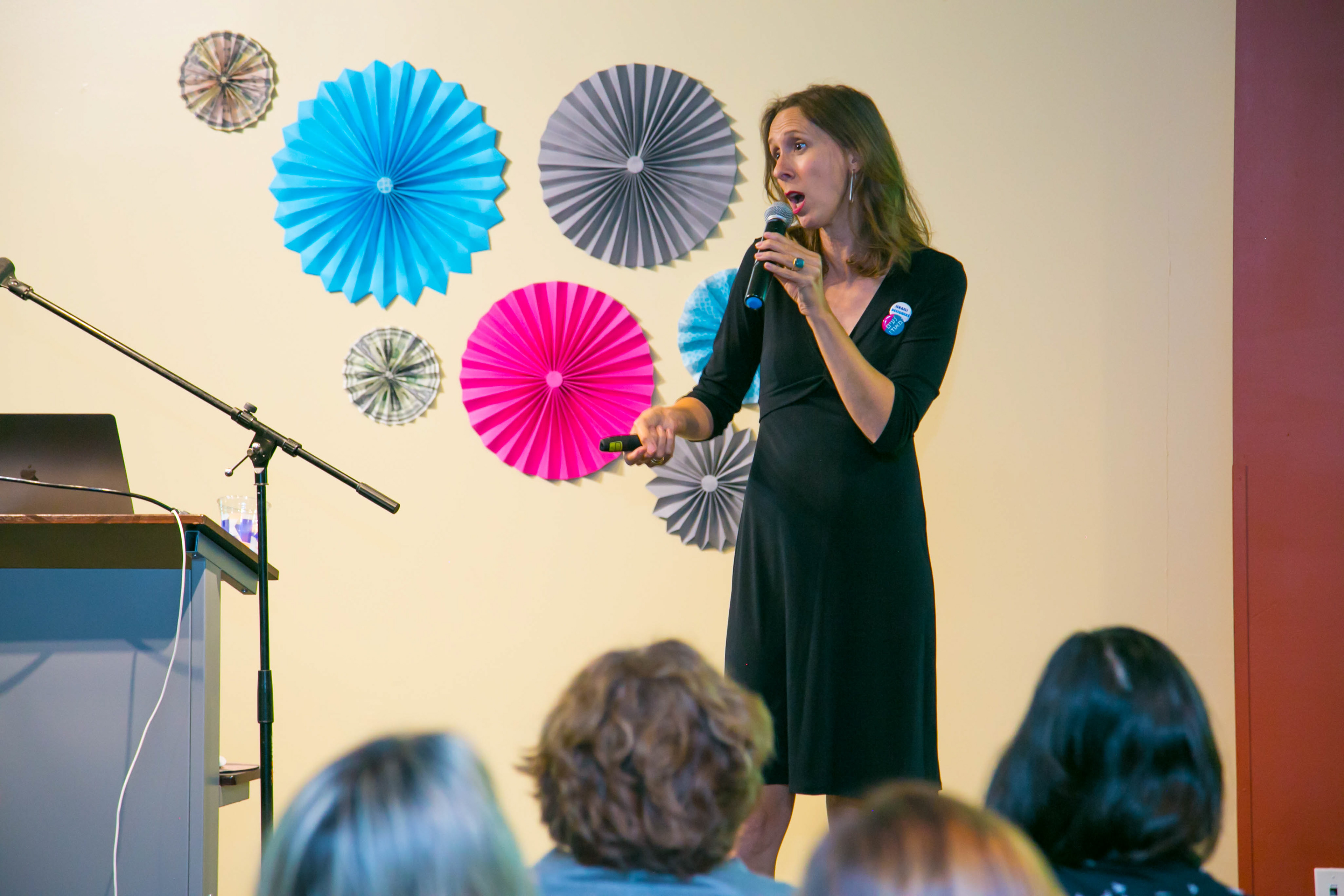 One more point she discussed as the business owner is that we should understand the value of paying for services. While building our business sometimes we don't have much capital to invest and naturally, we start asking our friends for favors. Many times this leads to delays, a lack of commitment, and just leaving you with a general feeling of not getting what you expected.  
Personally, I try to always prioritize my to-do list and outsource tasks, within my budget, that I believe a specialist can do better. We cant always be a jack-of-all trades and the best thing we can do is focus our time on the aspect of our own business where it brings the most value. 
After Ronit's lecture, the audience participated in a Q&A session. All the questions had a common theme in which it was about finding your voice and self-respect, the core values of creating a successful business.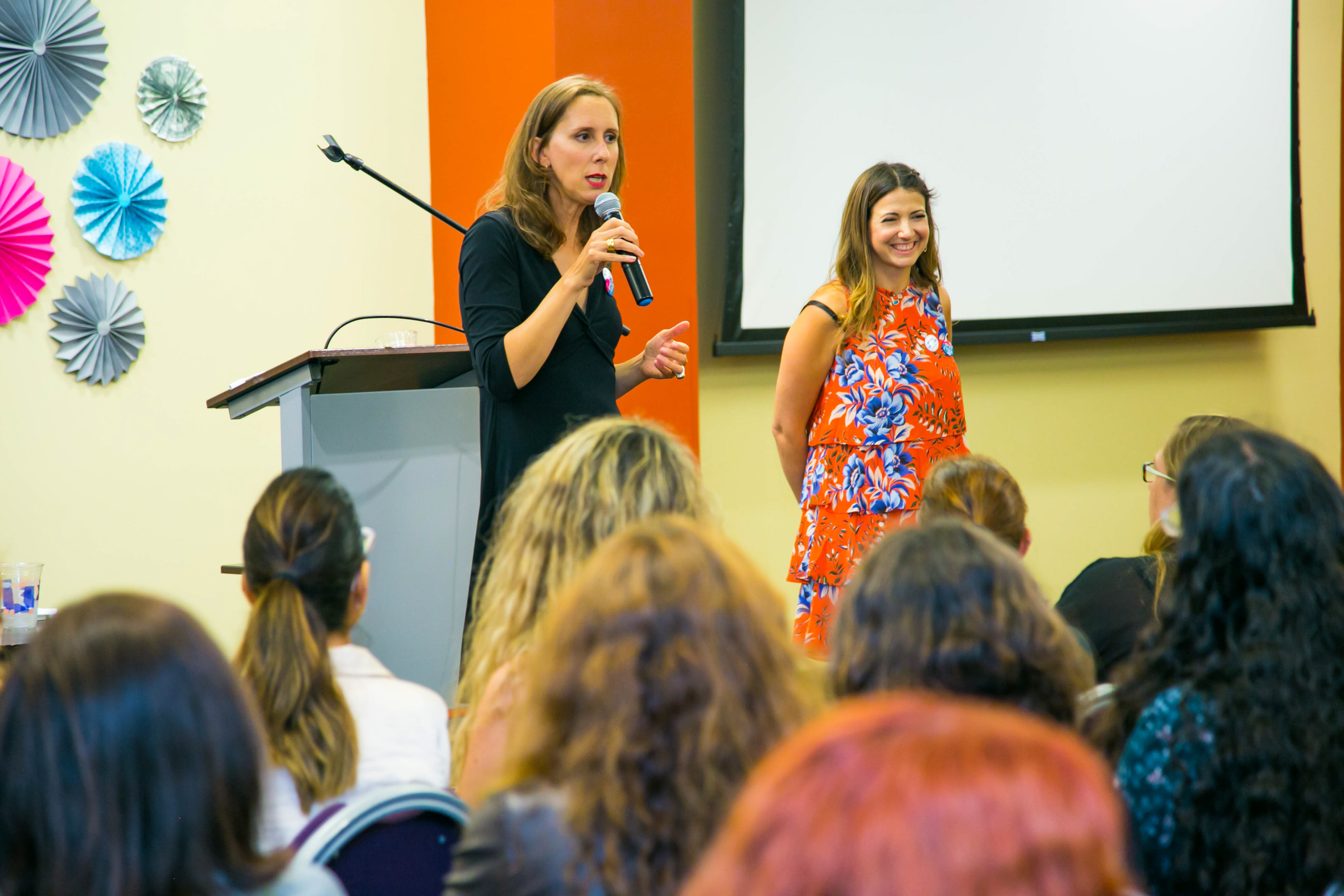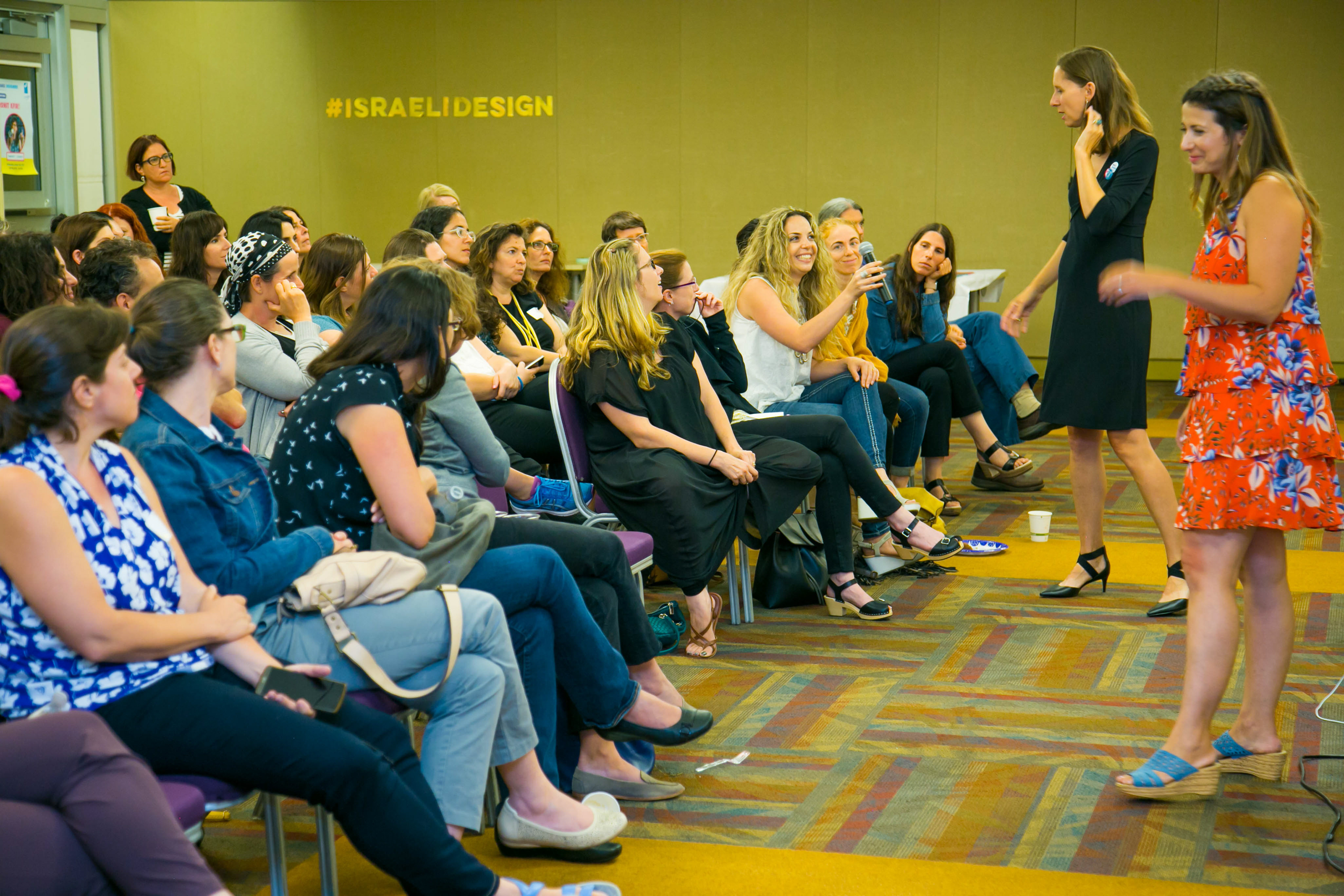 Hosting this event with Ronit and hearing her stories taught me a valuable lesson. I believe her strong message of how to be proud of your work by building a relationship and your portfolio of clients makes your work become more meaningful. 
I highly recommend watching the another video shared by Ronit by Amy Cuddy, a social psychologist who gave the famous Ted talk
"Your body language shapes who you are,"
 which gives great tips on how to fake it until you make it. Especially when you are feeling lack of confidence, which all of us confront as humans do.
I hope women and men in our community will learn how to walk with more confidence. I want them to trust their instincts to bring value to their work and support each other threw the journey of building a business.  
This event was made possible due to the help of Roni Antebi, the
ICC@JCC
 team, and Ronit Kfir, our amazing speaker, who decided to share her popular lecture with the Israeli Designers community in Silicon Valley.